Dolphin Royal Swim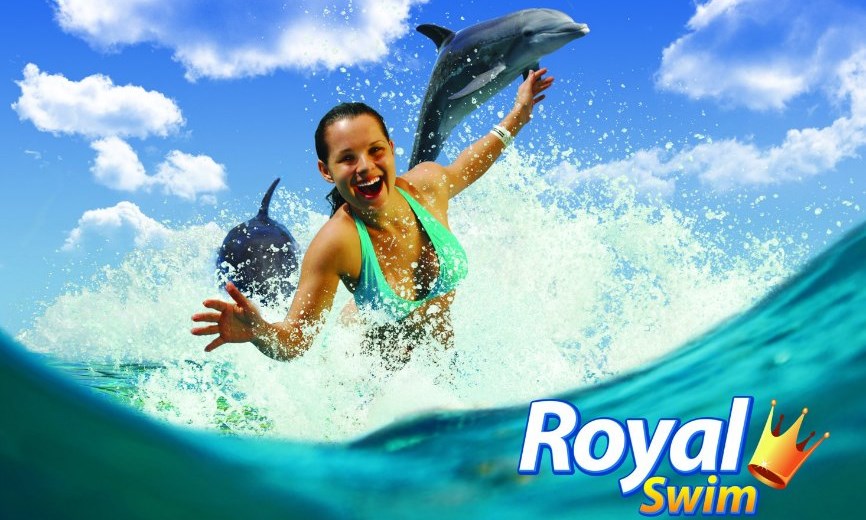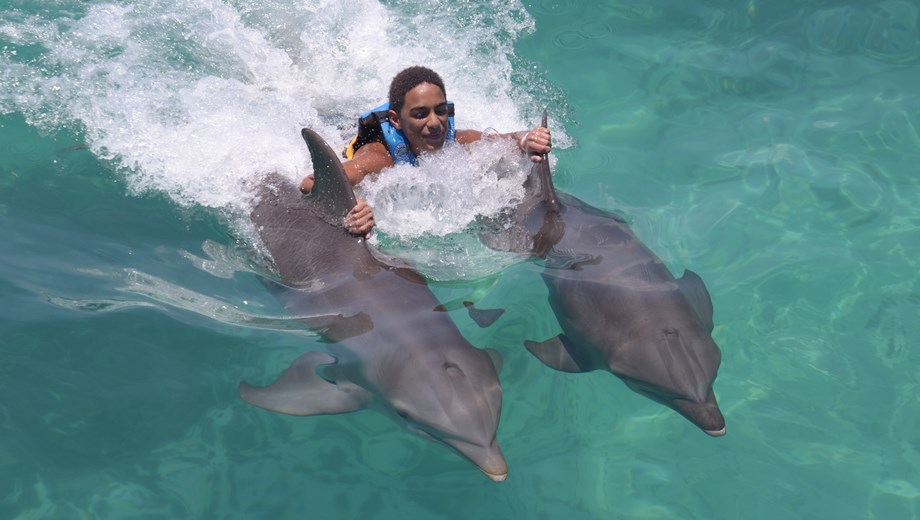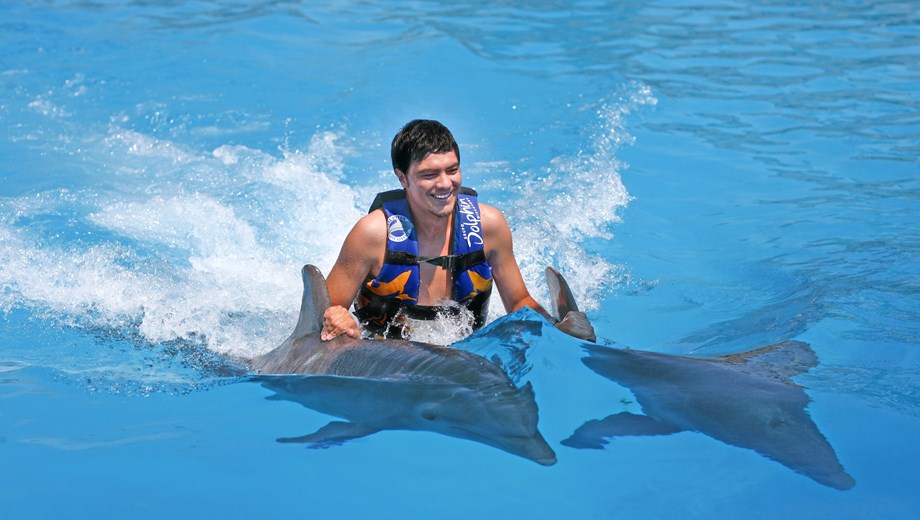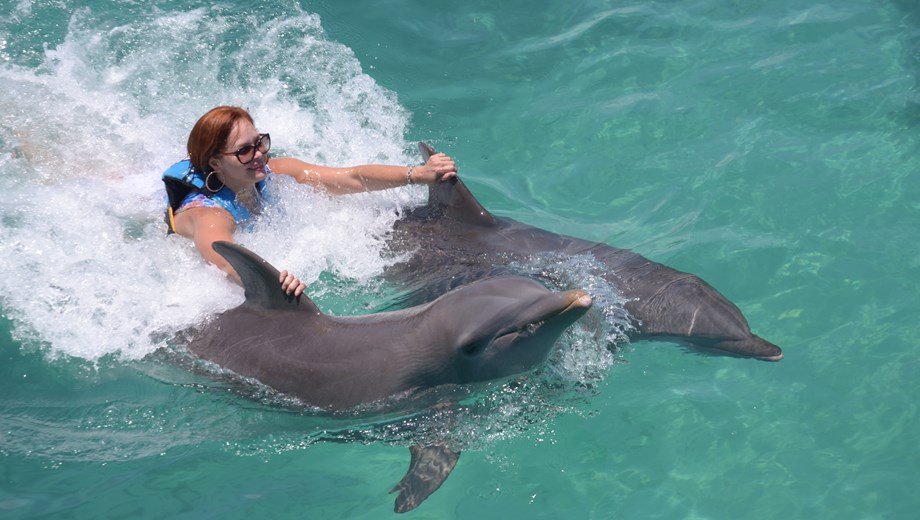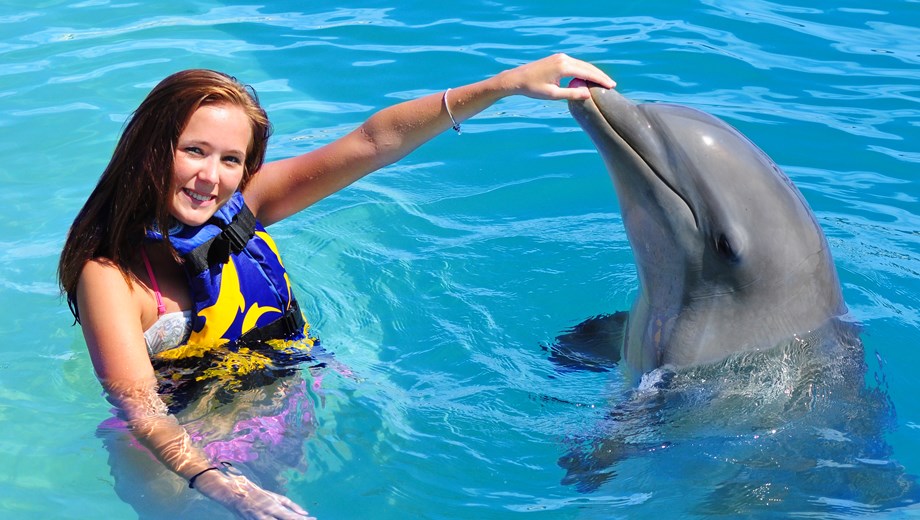 Features
Friendly with:





Activity Length
alarm
1 hours
4x3 & 3x2
Book 2 or 3 & get 1 FREE on Aquaventuras Tours!!
Add 3 or 4 passes and one of them will be discounted from your total.

EXTRA BONUS
Zip Lines, Climbing Wall, Extreme Fun Course, Food Combo, Water Slides, Tube, Dolphin + Sea lion Shows, Lockers
HOW DO I APPLY IT?
What is this about?
Our swim program consists of 60 minutes of interaction during which our guests will experience the thrill of swimming with dolphins enjoying the opportunity to pet and interact with them in a freetime, also Be amazed by the extraordinary strength and skill dolphins showing the moment they drive their feet, managing to move quickly through the water, there will be a session where they can kiss and be kissed by the dolphin, hug, dance, sing!
Behaviors:
Free time with Dolphins
Swim dorsal
Handshake
Kiss
Foot push
Hug
Interactive games
NOTE: Promotion with promotion cannot be applied, that is; children free and 3x2 and / or 4x3.
What is included?
Park admission.
15 minute briefing and 60 minutes with the dolphins.
Dolphin & Sea Lion Show.
Zip lines.
Challenge.
Climbing Wall.
Locker.
Inner tube.
FREE BONUS! Interactive Program with Sea Lions.
Share your Experience

Sarah Russell

Comstock Park, MI, United States

Apr 5, 2017

The Royal Swim was by far the best package! You get to swim with the dolphins and not just get in the water with them while you pet them and get a tutorial. The staff absolutely love their dolphins and you can tell the feelings are mutual! We are animal fanatics and if there were any sense of danger or harm to these animals it would ruin our trip but the facility is clean and well kept, the staff are crazy friendly and professional, safety is attended to properly and all the dolphins are very very well cared for and loved! This was one of the best adventures of our trip!!!


Lyn Farnsworth

Wellington , Wellington , New Zealand

Sep 25, 2017

Was an awesome day with the dolphins and seal. Our handler was Hugo he was really great.


Lucie Schacherl

, ,

Oct 6, 2017

We liked the activity very much, the staff was very friendly and even I have not expected anything special, I was really positively surprised how funny it was. The only negative thing is the price of the photos, really 40 USD per person is exaggerated...
Write a Review

Prices
Adult (+4' 7"ft) (12 - 99 years)
Meeting Points
location_searching

Aquaventuras Park

Carretera a Tepic KM 15, Bahia de Banderas, Nayarit
Notes
Photos and videos are captured during our programs and are available for purchase only on the day of the program.
Children from 1 to 12 years old enter free, they carry out the activity according to their height and complexion.
Children from 1 to 8 years old carry out the following activities: (kiss, shake hands and hug with the dolphin).
Children with stature from 1.20 meters can do all the activities with the dolphins.
Restrictions
Pregnant women are not permitted to participate in this program.
Minimum age: 8 years old.
No sunscreen or lotions are allowed while in the pool with the dolphin.
Recommendations
Towel.

Extra Money.
Extra change of clothes.